Blueberry Picking Experience
Blueberry Picking Experience
All You Can Pick Blueberry Experience!
Pick fresh blueberries at etffalt farm.
Blueberries taste different on each tree, some are sweet, some are sour and differ in sizes as we
Blueberries grow from the lower part of the tree as well so it's easy for children to pick as much as 200g.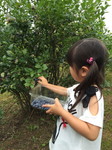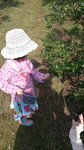 ---
Details
Blueberry Picking Experience
Location
Blueberry Farm/Saffron Farm ettfalt【HP】
Availability
End of June to the beginning of September(it may vary due to growing conditions)
Hours of Operation:

9:00am-5:00PM (Entry until 4PM)
closed during heavy rain
please check with regarding closed days and availability

Cost

Free to enter the farm as long as you pick blueberries.
After paying for the blueberries, you will be able to bring it home.
We ask that you pick more than 300g per person.

Remarks

There are no time limit but average picking time is about 2 hours.
Blueberries taste different from tree to tree so we welcome tasting them.
We prefer that you wear sneakers, please refrain from wearing sandals.
There are no shades in the farm so we recommend you bring a hat and a water bottle to avoid heatstroke.
Blueberry picking experience is reservation only, so please make your reservation at least 1 day prior.

Transportation
Bus pick-up and drop-off available (Additional Cost)
---
---

Inquiries about this experience
| | |
| --- | --- |
| Contact | Terakoya of Japan[Contact: Yoshida] |
| Address | 1-5-26 Imai-cho , Kashihara city , Nara |
| TEL | 0744-48-0805 |
| E-mail | yoshida@lukes-japan.com |
Guidance of Kashihara City and nearby hotels and B&B's also available.
---